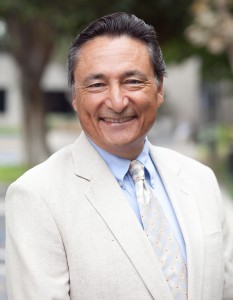 I have been part of the Institute for Behavioral and Community Health (IBACH) since 1991, and am currently an Affiliated Investigator at IBACH. I earned my Medical Degree (MD) from the University of Utah in 1982 and completed my residency in Preventive Medicine with a concentration in Community Oriented Primary Care in 1986 from the joint University of California, San Diego and San Diego State University (UCSD/SDSU) program. In 1991, I obtained a Masters of Public Health from San Diego State University. I am a bilingual, bicultural (Mexican/American) physician and have practiced medicine for 14 years in the South Bay area of San Diego, most of which were at the San Ysidro Health Center, Inc., (SYHC).
As a family practitioner, I have come to understand the culture-specific beliefs that serve as barriers to quality chronic disease health care. I am currently Professor and Division Head of Health Promotion and Behavioral Sciences at SDSU Graduate School of Public Health, Volunteer Clinical Instructor in the Department of Family and Preventive Medicine at UCSD, and a member of the National Hispanic Medical Association and the California Latino Medical Association. I have designed and managed service oriented and research programs involving CVD and diabetes prevention and control, breast and cervical cancer early detection/screening. Most of these projects have focused on low-income, low-literacy Spanish-speaking Latinos. Many of these projects have been conducted in collaboration with SYHC following principles of community-based participatory research.
Currently I serve as Principal Investigator for three programs funded by NIH including: 1) The Hispanic Community Health Study/Study of Latinos (HCHS/SOL), which is multi-site epidemiologic study of Latino health among 4,000 Latinos in San Diego, California and 16,000 in 4 cities in the United States which focuses on cardiovascular risk factors and psychosocial variables; 2) A cancer infrastructure building program (Redes En Acción) sponsored by the National Cancer Institute's Center to Reduce Cancer Health Disparities (NCI/CRCHD) Community Networks Program; and 3) Latinos Understanding Need for Adherence (LUNA) which is a currently funded NIMHD Center of Excellence (COE)/San Diego Partnership to Reduce Diabetes and Cardiovascular Disease in Latinos.
My current research interests explore the culture-specific beliefs that serve as barriers to chronic disease prevention and control. I have authored and co-authored over 40 peer-reviewed publications in the areas of health promotion, disease prevention, and behavioral epidemiology, and have mentored over 50 students at the undergraduate, graduate and doctoral level. In my free time I enjoy surfing, biking, skiing and going to overpriced major sporting events. Most of my time, I love spending time with my wife and two children.
Email: gtalavera@mail.sdsu.edu
Current Research Projects

Curriculum Vitae
Click to Download (PDF Version)
Publications
For an up to date publications list see Google Scholar