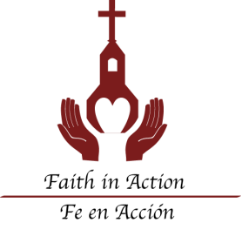 Summary
Faith in Action – Fe en Acción is a five-year group randomized controlled trial evaluating an intervention designed to improve the health of Latina women in San Diego. The primary aim of the study is to increase moderate to vigorous physical activity among churchgoing Latina women. Secondary aims include an evaluation of the impact of the built environment on physical activity in various communities throughout San Diego.
Sixteen churches throughout San Diego County are enrolled in the study and have been randomized to the intervention (physical activity) or attention-control (cancer prevention) conditions. The project uses a promotora (community health workers) model as we believe that trusted members of the community are best equipped to lead programs in their churches. While participant recruitment was underway, we recruited, hired and trained a total of 40 promotoras, 25 to lead physical activity classes and 15 to teach cancer prevention workshops in their parishes. Over the course of the two-year intervention, physical activity promotoras provide six free exercise classes per week in their churches and cancer prevention promotoras offer multiple six-week workshop series.
In addition, promotoras in the physical activity churches are trained by WalkSanDiego staff to assess and improve the built environment in their communities to promote physical activity. In each physical activity church, promotoras work with church members to identify two projects, one at the church site and one in the surrounding neighborhood. Project staff support the work of promotoras and parishioners on these projects, which have included park clean-up projects, trail restoration, church beautification projects, and advocating for crosswalks.
To date, 446 women have been enrolled in the study and participated in both physical activity classes and cancer prevention workshops. Participants complete measures at baseline, 12-months, and 24-months. Measures include anthropometric measures, fitness test, seven-day accelerometer wear, and a 313-item survey. Project activities are not limited to study participants, but rather are open to all church members in participating sites. Across San Diego, thousands of parishioners have participated in Faith in Action's physical activity classes and cancer prevention workshops.
Partners
Holy Family (Linda Vista) 
Holy Spirit (Oak Park) 
Church of the Resurrection (Escondido) 
St. Francis of Assisi (Vista) 
St. Mary Star of the Sea (Oceanside) 
St. Peter the Apostle (Fallbrook) 
Holy Trinity (El Cajon) 
St. John of the Cross (Lemon Grove) 
Christ the King (Stockton) 
St. Anthony of Padua (National City) 
Our Lady of Angels (Sherman Heights)
Our Lady of the Sacred Heart (City Heights) 
Our Lady of Mt. Carmel (San Ysidro)
Mission San Luis Rey (Oceanside) 
Our Lady of Guadalupe (Barrio Logan) 
Our Lady of Guadalupe (Chula Vista) 
Catholic Diocese of San Diego 
Contact Information
Jessica Haughton
Project Manager
T: (619) 594-6302
E: jhaughton@mail.sdsu.edu